Roof Water Damage Restoration in Cincinnati & Dayton, OH
Many homeowners are unaware of roof water damage until the interior of their home has been affected. Severe storms, rain, wind, hail, tree limbs, or other debris can leave your roof vulnerable to damage and water seeping through. Roof failure causes water damage to your attic and floors underneath.
Teasdale Fenton Cleaning & Property Restoration is your go-to provider for attic water damage in Aberdeen, Batavia, Addyston, Bellevue, Cincinnati, Dayton, Lynchburg, Mason, California, Camden, and throughout our Cincinnati service area. Our IICRC-certified technicians can return your home or business to its pre-water damage state and a sense of normal as soon as possible. For 15 years, we have provided customer assistance throughout the Cincinnati and Dayton, OH, areas.
Call 513-463-1797 or contact us online to ask about a free estimate, or to arrange a consultation for your attic water damage restoration and other water damage repair needs. We provide 24/7 emergency response.
Teasdale Restoration Fixes Common Roof Water Damage Issues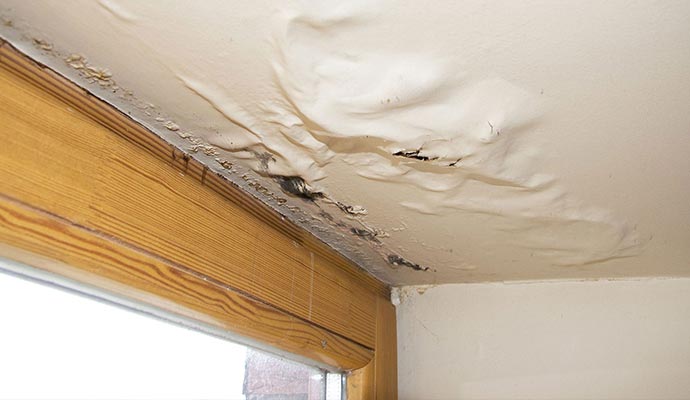 Even small roof leaks can turn into a major restoration. Teasdale Fenton Restoration tackles other issues related to roof water damage, including:
Rely on Teasdale Restoration For Roof Water Damage in Hamilton, OH
Roof water damage can create costly damage. Teasdale Fenton Cleaning & Property Restoration will identify the source of your roof water damage and perform necessary water damage cleanup, repairs and restoration. We offer 24-7 emergency service and can begin repairing roof water damage immediately. We tackle any kind of water damage issue from start to finish.
For appliance leak cleanup, clogged drain overflow, dehumidification, burst pipe repair, and more, call 513-463-1797 or contact us online to ask about free estimates and arrange a consultation.