Biohazard Cleanup in Cincinnati, Mason, & Dayton, OH
Biohazard cleanup is a specialized process that safely removes and decontaminates biohazardous materials like blood, bodily fluids, chemicals, and more. It's necessary after accidents, trauma, crimes, suicides, or unattended deaths to prevent pathogen spread and ensure safety. Proper cleaning and disinfection are crucial to protect individuals who may encounter the contaminated area in Cincinnati, Middletown, Mason, Dayton, and other cities we serve in Ohio, Kentucky, and Indiana.
For more than 15 years, Teasdale Fenton Restoration has been assisting residents and business owners with top-quality biohazard cleanup services. As a fully licensed and insured company, our highly experienced technicians are equipped with advanced cleaning and disinfection equipment to effectively eliminate all biohazards from your home, office, or crime scene. For professional biohazard cleanup services, feel free to contact us at 513-463-1797 or click here for more details.
Teasdale Fenton: Your Premier Biohazard Cleanup Service Provider
Teasdale Fenton Restoration is the top choice for premier biohazard cleanup services, with experienced and skilled technicians. We handle biohazards safely and effectively, providing thorough & reliable cleanup for homes, offices, and crime scenes. Our services include: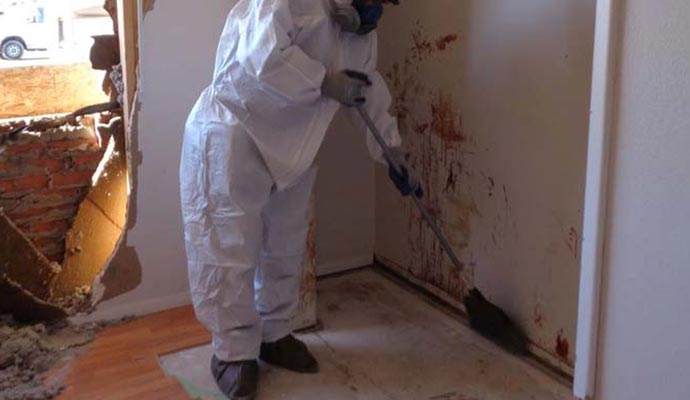 Health & Safety: We clean up biohazards like blood & bodily fluids to prevent the spread of infections and diseases.
Preventing Contamination: Biohazards cause contamination. We remove these substances to prevent exposure.
Restoring Normalcy: After traumatic incidents, our biohazard cleanup is crucial to restoring the affected area.
Specialized Training & Equipment: We have the training, techniques, & equipment to clean up biohazards.
Professionalism & Sensitivity: Because biohazard cleanups can be emotional, our crews show empathy, respect, and discretion.
Rely on Us for Biohazard Cleanup in Cincinnati, Aberdeen, & Amelia
Standard cleaning methods won't suffice to eliminate blood stains, microorganisms, and hazardous bacteria. At Teasdale Fenton Restoration, we specialize in cleaning crime scenes and affected areas. Our powerful non-toxic cleansers, disinfectants, and cutting-edge solutions ensure thorough cleanliness. Our wide range of biohazard cleanup services covers trauma cleanup, crime scene cleanup, blood cleanup, hoarding scene cleanup, and more. Just dial 513-463-1797 or click here for biohazard cleanup assistance in Cincinnati, Amelia, Franklin, and Aberdeen.