Wood Floor Water Damage in Cincinnati, OH
While hardwood floors may seem durable, water damage from pipe leaks, floods, excessive humidity, faulty installation, and improper cleaning can make them vulnerable. In addition, crowning, cupping, and warping issues can be costly and difficult to correct.
Contact Teasdale Fenton Restoration for wood floor water damage in Addyston, Bellevue, Cincinnati, Dayton, Lynchburg, Mason, California, Camden, and our Cincinnati service area. Our IICRC-certified technicians can return your home or business to its pre-water damage state and a sense of normal as soon as possible. For 15 years, we have provided customer assistance throughout Cincinnati and Dayton, OH.
Call 513-463-1797 or contact us online to ask about a free estimate or to arrange a consultation for your wood floor water damage and other water damage repair needs.
Common Causes of Wood Floor Water Damage
Issues that might result in wood floor water damage, and a call to the professionals at Teasdale Fenton Restoration, might include:
Water on a job site
Slab moisture
Drainage issues
Roof leaking
Plumbing or pipe leak, break, or flood
Lack of ventilation in an uninhabited home or space over time
Excessive humidity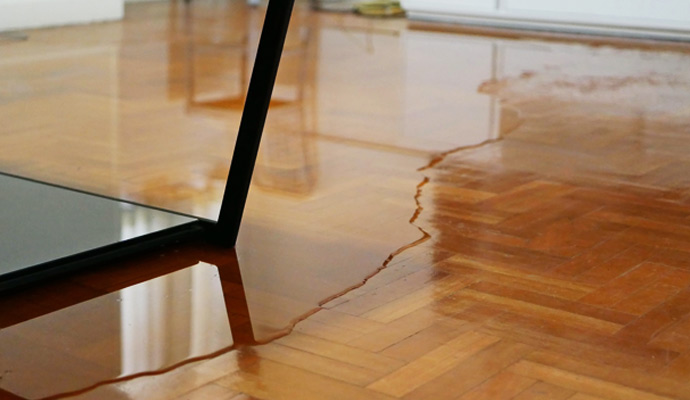 Trust Teasdale Fenton Restoration For Wood Floor Water Damage in Dayton, OH
Teasdale Restoration has been your superior, reliable provider for water, fire, storm, mold damage, and other restoration for more than 15 years. We also assist customers with wood floor water damage; water line breaks, water pipe leak cleanup, and more in Feesburg, Guilford, Cincinnati, Aurora, Bellevue, California, Newport, Decatur, and throughout our OH service area. Call 513-463-1797 or contact us online to learn more and arrange a consultation.