Dehumidification & Restoration Services in Cincinnati, OH
Dehumidifiers enhance interior air quality by reducing allergens, in addition to making your Cincinnati house seem cooler. Mold thrives in high humidity, and pests like dust mites thrive in this atmosphere. Mold and dust mites both trigger allergy reactions in many people. Even if you don't have allergies, some individuals find it difficult to breathe in heavy, humid air, but it's easier to live when the air inside is dehumidified.
Teasdale Fenton Restoration offers the technology and experience to dehumidify your home or business in Cincinnati and the surrounding areas. We provide commercial air movers and dehumidifiers to bring the interior air humidity down to under 55%. We will also use monitoring devices to keep track of our progress. Call us today at 513-463-1797 to book our services.
Advantages of a Dehumidifier by Teasdale Fenton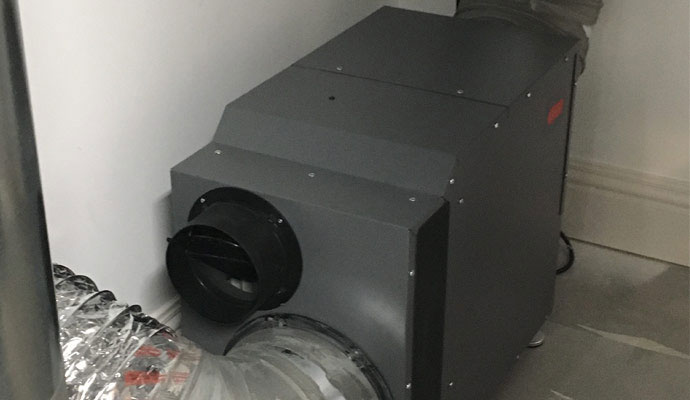 There are several benefits of dehumidifiers. Some of them include:
Reduce Allergies- Bathrooms, laundry rooms, basements, crawl spaces, for example, might be especially prone to storing allergy-causing pollutants that can spread throughout a property due to poor air circulation. A dehumidifier can assist in reducing the moisture that encourages allergy development, thereby improving air quality and preventing the growth of germs and viruses.
Solves Pest Related Issues- If you've spotted pests like spiders, cockroaches in your home, a dehumidifier could be able to keep them away. Pay attention to the rooms with the most significant pest activity; if they contain water or have a high level of humidity, then this could be the reason.
Improved Comfort- Moisture levels that are too high in a home might lead to structural issues over time. Condensation can accumulate, resulting in mildew, mold, warping, and degradation. Long-term dampness and excessive wetness can even harm the furniture. Because of reduced air circulation, homes that are correctly sealed for energy efficiency are prone to more issues. A dehumidifier may solve the problem quickly.
Controlled Moisture- Homes with adequate humidity levels are more pleasant to reside in. When a dehumidifier is used, the interior air quality is typically enhanced.
Let Teasdale Fenton Restore Your Home in Cincinnati
Teasdale Fenton Restoration has been serving Ohio clients for more than 15 years. We believe in professionalism and helping our clients with the best possible service. All our technicians are IICRC certified, background-checked, and insured. Our service includes sump pump failure and flood cleanup, sewer drain backup, insurance claims, and many other services. Would you please make sure to contact us online or call us at 513-463-1797 for further information?