Restore Smoke Stains & Discoloration in Cincinnati, OH
When a fire breaks out, it creates a path of destruction that damages the surfaces and structures of your property. Because smoke & soot are involved, staining and discoloration are two of the most difficult substances to remove in the clean-up process. These stain marks can serve as a permanent reminder of the traumatic incident and can have a substantial influence on the beauty and value of your property.
That's why Teasdale Fenton Restoration provides top-notch smoke & soot damage restoration services for homeowners and business owners throughout the Greater Cincinnati, OH, area. We specialize in delivering full fire damage restoration solutions, including the removal of stains and discoloration caused by the fire. Our highly trained professionals know the complexities of fire damage and have the skills and equipment to return your home or office to a pre-loss state. Call us at 513-463-1797 or click here to schedule services online with our fire damage restoration professionals.
Benefits of Choosing Teasdale Fenton for Soot Damage Restoration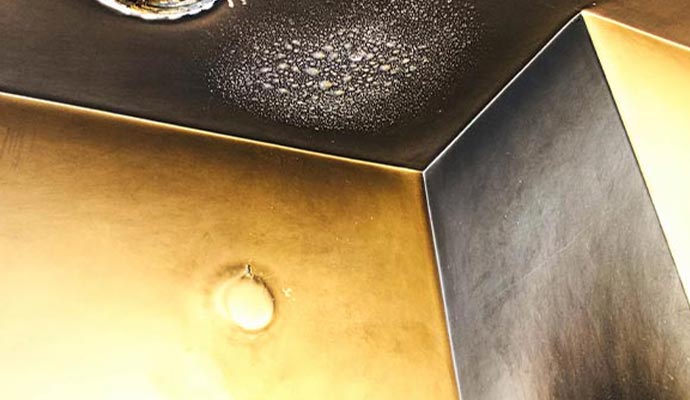 Our process to remove soot stains & discolored walls works. When you choose Teasdale Fenton Restoration, the benefits include:
24/7 emergency services
15-plus years of experience in customer satisfaction
Air duct system smoke removal
Trained and certified by IICRC, RIA
Work directly with your insurance provider
Emergency board-up services
Background checks, insured and licensed
Disinfecting services
Emergency contents restoration services
Trust Us for Stain & Discoloration Damage Restoration in Cincinnati & Madeira
Our skilled professionals at Teasdale Fenton Restoration have the knowledge and expertise to handle even the most difficult repair tasks, including smoke & soot stains and discoloration. We offer industry-leading restoration services throughout Dayton, California, Covington, Mason, Florence, and other cities near Cincinnati. To learn more, call us at 513-463-1797 or click here to schedule the best available stain & discoloration damage restoration services within our service area. Our skilled staff will first inspect the damaged area, use specialist cleaning methods, and return your home to its pre-damaged state.