Fire and Water Damage Restoration in Amelia, OH
Water or fire damage can be traumatic and overwhelming, but there's hope. Action must be taken immediately to prevent further damage, which could require more significant repairs. If you have suffered fire or water damage in Amelia, rely on Teasdale Fenton Restoration to restore your property efficiently, safely, and effectively. Our specialists can quickly return your home or business, and life, to normal.
Teasdale Fenton Restoration is the trusted name in cleaning and restoration throughout Ohio, thanks to the expertise of our professionals, who arrive at the scene equipped with the knowledge, tools, and technology necessary to clean up, repair and restore fire or water damage, and prevent more. We're available for 24/7 response to assist you with any restoration emergency in Amelia or nearby OH cities. Call us today at 513-463-1797 or contact us online, and let us deliver peace of mind.
More Teasdale Fenton Restoration For Homeowners in Amelia, OH
Teasdale Fenton Restoration built a reputation for providing excellent quality and service to our clients for more than 15 years. Teasdale Restoration is the superior restoration provider serving customers in Amelia and nearby areas. Our experts also provide:
Mold removal: Mold growth in your home or office can cause major health issues. For more than 15 years, Teasdale Fenton Restoration's mold removal team has successfully restored affected homes and businesses. We collaborate with the property owner, insurance representatives, and industrial hygienists to develop the most effective and efficient action plan for your mold remediation that meets all industry guidelines.
Storm damage: Teasdale Fenton technicians are experts in repairing damage from storms to commercial, industrial, multifamily, and educational properties. Throughout the process of restoring your home or business, we are dedicated to assuring your complete satisfaction. Our trained professionals respond quickly to protect your property and limit further damage from additional exposure to elements.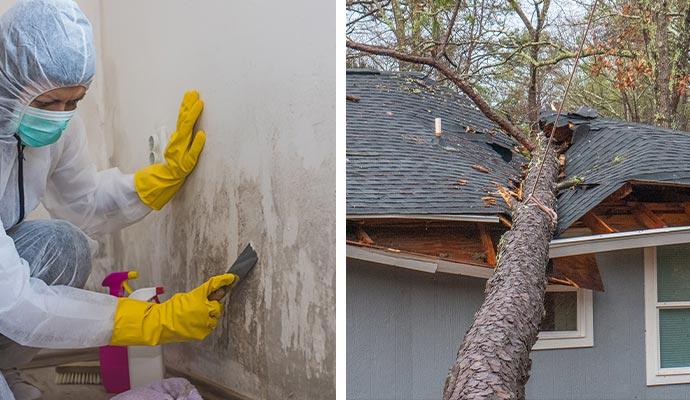 Trust Teasdale Fenton Restoration For Fire or Water Damage in Amelia, OH
With more than 15 years of service in Amelia and the Greater Cincinnati, OH area, Teasdale Fenton Restoration technicians specialize in fire and water damage restoration. Over the last two decades, we have met and exceeded the restoration needs of both homeowners and businesses in Amelia. To assist you in your hour of need, our emergency crews are available 24/7/365. Call us today at 513-463-1797 or contact us online to learn more and book an appointment with a Teasdale Restoration team member.