Wind Damage Repair Services in Cincinnati, Ohio
The Greater Cincinnati, Ohio area experiences strong wind and storms so frequently that the inhabitants here are very much familiar with storms of various kinds and of the after-effects on residential & commercial properties. Teasdale Fenton Restoration has an especially experienced team of technicians ready to provide 24/7 wind damage repair service in Mason, Mariemont, Madeira, and other cities within our service area.
Types of Wind Damage Restoration Offered by Teasdale Fenton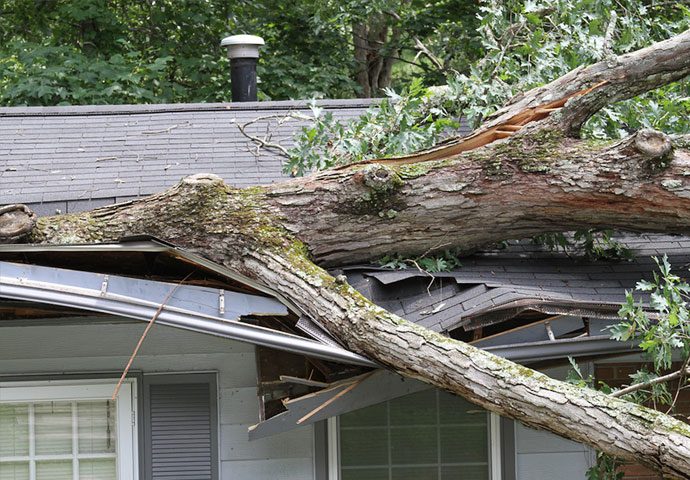 Roof: Shingle Roofs

During tornadoes, hail, or rainstorms, wind can move as fast as 300 miles per hour. Most asphalt shingle roofs can withstand winds up to only 80 mph. So these fast swirling winds can literally sweep roofs off houses.

Wind damage on asphalt or premium roofing can also result in missing shingles. Bent or curling shingles can also indicate wind damage as while not having been removed, the wind was strong enough to move them and reshape them. Missing or damaged shingles could lead to a compromised roofing structure.

Residential Properties

Wind can cause trees to fall over the roof causing leaks or breaking it to the core, making way for flying debris and water to enter the house. This can cause wet floors, wet carpets, soaking furniture, flooding, growing molds & mildew, and much other untold chaos inside the home.

UV Exposure

Unnoticeable gaps in the roof caused by storm damage can let harmful UV rays into the house. The rays can also damage specific components of your roof. UV exposure can easily damage the materials underneath traditional roofing reducing its durability greatly.

Siding & Windows

Vinyl Siding: Splits, cracks, chips, breaks, and holes can easily occur in vinyl sliding during wind damage– both from the wind itself and also from flying particles and wind-driven hail.
Aluminum Siding: If you have aluminum siding, the most common signs of wind damage are dings and damages in the sliding. In a serious storm, it is common for pieces of aluminum sliding to be duped completely.

Windows

Some common damages caused by the wind to windows include:

Shattered or broken panes
Cracks, holes, or dents in glass
Damaged or dented frames
Chipped or cracked paint, sliding, or wood

Fences

The most common reason for fence panels falling over in high winds is that the posts are rotten and therefore no longer able to withstand the pressure of stormy weather. Some pre-installation steps can reduce the chance of it ever becoming wind damaged.
Wind Damage Repair Services in Falmouth, Hebron, & Latonia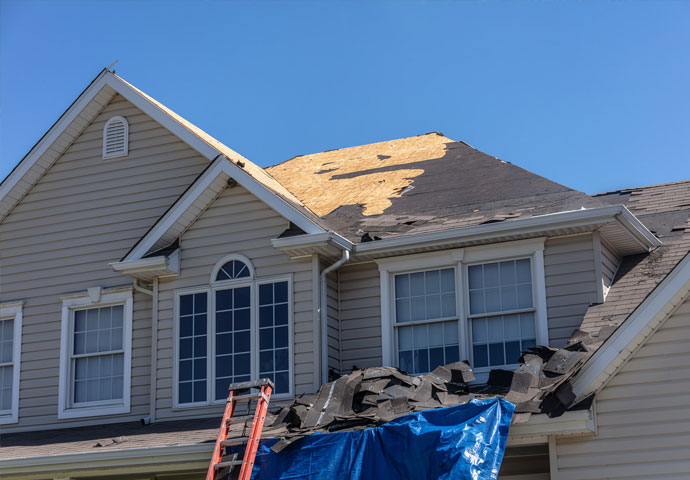 Our wind damage restoration services include:
Debris removal and full cleanup of affected areas
Hail and roof damage repair
Restoration of electric, natural gas, and heat (if needed)
Window and door replacement
Contents pack-out and storage during mitigation and restoration
Furniture and contents restoration (including electronics, documents, and photographs)
Complete reconstruction services
Emergency water mitigation
Temporary emergency plumbing repairs
Emergency board-up to prevent theft and/or injury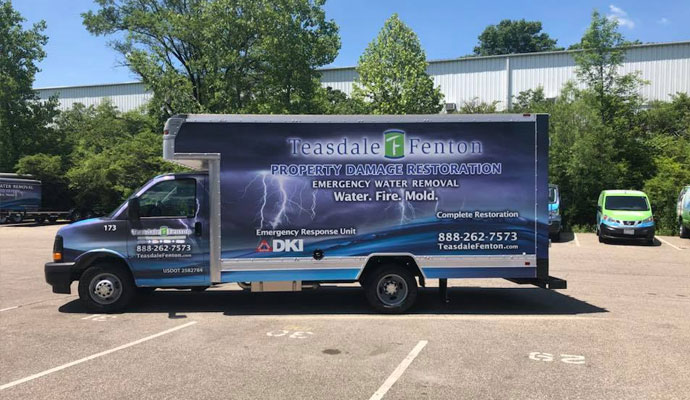 Why Choose Teasdale Fenton Restoration for Wind Damage Repairs in Cincinnati & Milford?
Teasdale Fenton Restoration has more than 15 years of experience in the restoration industry serving in Falmouth, Hebron, Latonia, Milford, Neville, and other areas of the Greater Cincinnati, Ohio service area. We can handle any kind of wind damage problems from start to finish. Moreover, we provide 24/7 service to our customers. Call us today at 513-463-1797 or contact online to get a free estimate and allow us to start the restoration work right away.
Phone answered live 24/7/365
3-year warranty on all works performed
Background tested, licensed & insured
Emergency water removal/pump-out service
State-of-the-art Hydro Extreme Water Extraction
Certified Vortex Structural drying specialist on your job
Direct billing to the insurance company
Commercial and residential services
IICRC Certified Technicians
S500 Guidelines for water extraction and structural drying