Storm and Wind Damage Repair in Lynx, OH
Your residential or commercial property can experience significant damage from high winds, tornadoes, rain and flooding, or hail. Call our team of qualified storm damage restoration specialists at Teasdale Fenton Restoration when the forces of storm and wind destroy your property in Lynx or anywhere in the Cincinnati area.
We have the equipment and expertise to mitigate damage and restore your property to its pre-loss condition. We're dedicated to assisting customers in Lynx with 24/7 emergency response to begin the restoration process after storm and wind damage ASAP. Teasdale Fenton Restoration is here to help. We're dedicated to best results, customer service and total client satisfaction.
Call us at 513-463-1797 or contact us online to make an appointment and ask about free, no-obligation estimates.
Trust Teasdale For Wind & Storm Damage in Lynx, OH
At Teasdale Fenton Restoration, we have more than 15 years of experience in storm and wind damage repair and restoration. Call us at 513-463-1797 or contact us online to learn more and arrange a consultation if your property in Lynx is damaged by any of the following: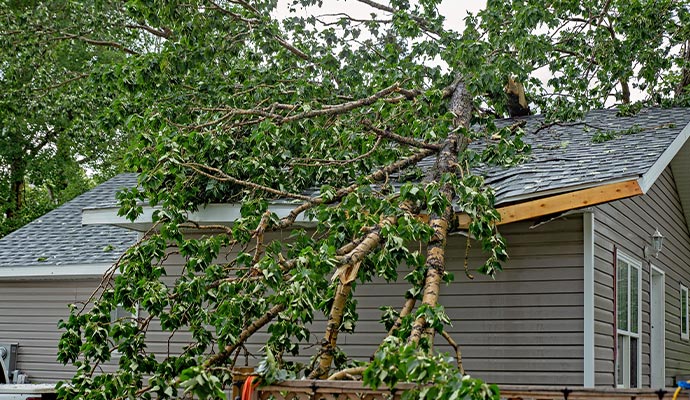 Rain: Rain may harm structures in many different ways, ranging from little roof leaks to flooded basements.
Lightning: Lightning is an uncontrolled natural event. An electrical storm may result in indirect harm like wildfires or treefalls. Structures can also be directly hit by lightning.
Wind: Your home may have severe challenges from high wind speeds. Your roof is one of the most problematic regions. Future water leaks may result from a roof with wind damage.
Fallen trees or branches: Based on the size of the tree and the extent to which the building was hit, the damage caused whenever a tree falls onto a structure can be anything from minor to serious.
Winter storms: Freezing weather can lead to a wide range of issues. You run the risk of having frozen pipes, leaks, and floods because of the weather. Trees and electricity lines may come down as a result of an ice storm.