Flood Restoration Process in Cincinnati, OH
Nothing makes a homeowner more helpless than a water-related disaster and the extensive damage caused by it. Floods, for instance, may cause damage to each and every item in your home including furniture, kitchen tools, electrical equipment, carpet flooring, and other stuff that you hold dear. That's why if your property is affected by a flood, you must take quick action to restore the damage and ensure the safety and security of the property.
Teasdale Fenton Restoration provides the best flood damage restoration services to ensure complete customer satisfaction. Our crew of IICRC-certified technicians has been serving the clients of greater Cincinnati, Ohio for more than 15 years. We try our best to support the clients and reduce their emotional burden in tough times of storm damage. So if you reside near Mason, Madeira & Lebanon, or other cities in our service area, don't hesitate to call us at 513-463-1797 or contact us online to avail the best flood damage restoration service.
Why Hire Professionals for Flood Damage Restoration?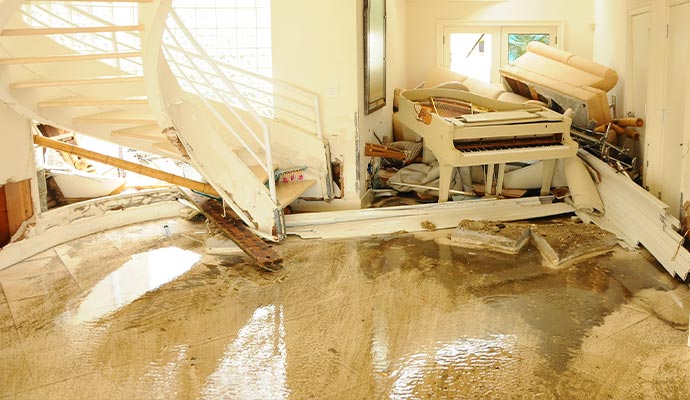 Quick Restoration: Professional flood damage services respond quickly and work efficiently. They have the necessary tools, equipment, and skilled crew to finish the project quickly.
Safe Mold Remediation: The second biggest problem in your house or place of business after water is mold growth. Mold may appear anywhere, including inside wooden paneling, furniture, and on ceilings. Availing of professional services helps eradicate mold and mildew along with preventive measures.
Easier Insurance Claims: In addition to damage restoration, companies help with insurance claims as well. This way you will be sure that you are getting a fair settlement.
Reduced Losses and Costs: Professional restoration companies quickly suck the water, dry the area and protect your belongings from serious damage. on the contrary, if you try to restore flood damage by yourself, it might take a lot of time, energy, and money as well.
Eliminate Health Concerns: An experienced flood damage restoration professional has the knowledge to identify potential health hazards. They also have the necessary resources to disinfect and decontaminate the area to improve indoor air quality.