Cracked Foundation Repair in Cincinnati & Dayton, OH
Age, weather, soil, leaks, or moisture, especially at the basement level, are all factors or potential causes of cracked foundations. However, small cracks to major ones shouldn't be ignored, and a 45-degree or broader crack can signal significant damage. Trust Teasdale Fenton Restoration to find your best foundation solutions for professional cracked foundation repair.
Teasdale Fenton Restoration is a licensed and certified water damage restoration company that has served Greater Cincinnati for the past two decades. As water damage specialists, we're familiar with damage to basements and offer professional cracked foundation repair protection and solutions. We are your cracked foundation repair experts in Dayton, Fairfield, Hamilton, Goshen, and our Greater Cincinnati service area.
We provide 24/7 emergency service, as our IICRC-certified specialists are ready to help you in sudden distress. In addition, our three-year warranty on all work performed is your guarantee that highly-skilled restoration specialists perform our work. Call Teasdale Fenton Restoration now at 513-463-1797 for cracked foundation repair or other water damage services or needs.
Cracked Foundation Types Teasdale Fenton Sees in Cincinnati & Dayton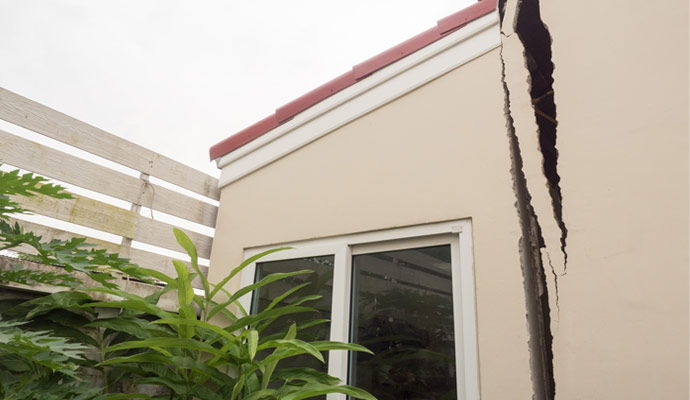 Vertical Foundation Cracks

Vertical cracks are a common sighting in basements and are less severe than horizontal ones. Water leaks can occur, and water-resistant epoxy or polyurethane is an effective solution.

Horizontal Foundation Cracks

Horizontal cracks can indicate structural or design problems. For example, exterior plumbing clogs or excessive hydrostatic pressure from water outside the foundation can cause them.

Stair-Step Foundation Cracks

Stair-step cracks are critical and caused during the settlement process. In addition, rainfall can leak into basements and prompt emergency professional attention.

Basement Floor Cracks

These often start at the corner and slowly spread across basements. As a result, water can seep in from sub-basement soil and leak throughout.
Count on Teasdale Restoration For Mold Damage Solutions in Cincinnati
Teasdale Fenton Restoration has been the trusted, most reliable water damage restoration company for more than 15 years, earning customers' trust through superior service. See our reviews page for how customers feel about our service and results.
We are available 24/7 in Dayton, Fairfield, Hamilton, Goshen, and our Greater Cincinnati service area. For our advanced, effective cracked foundation repair or basement waterproofing solutions, call Teasdale Fenton Restoration at 513-463-1797.