Garage Fire in Cincinnati, OH
When it comes to garage fires, the news is mixed. These incidents are very infrequent and usually only involve one vehicle. It's horrible news because fire might break out at any time. According to the United States Fire Administration, over 650 parking garage fires occur in the United States each year. The property damage from these occurrences totals $7.6 million each year, with 15 people being injured on average.
This issue can be a concern for many residents living around Cincinnati, Collinsville, and other cities of Ohio. Well not to worry anymore. At Teasdale Restoration, the employees on our fire and smoke clean-up teams are highly trained and experienced, and they utilize specialized equipment and chemicals to enter cracks and crevices in order to neutralize and eliminate smoky smells. So why wait any longer when you may make use of our premium services at any moment simply dialing 513-463-1797 or you can also contact us online!
Effective Ways to Prevent Garage Fire
A garage fire can be very disastrous. Here is what you should do to prevent the fire from spreading across the garage-
Inspect the design of your garage to ensure it complies with the National Fire Protection Association's Standard for Parking Structures (NFPA 88A).
Keep the garage from becoming a storage facility.
Apart from automobiles, keep it free of obstructions.
Put in place a surveillance system to keep an eye on the parking lot.
Put up electronic pay stations and assign employees to patrol the garage and give customer service, as well as to execute security chores and generally keep an eye on things.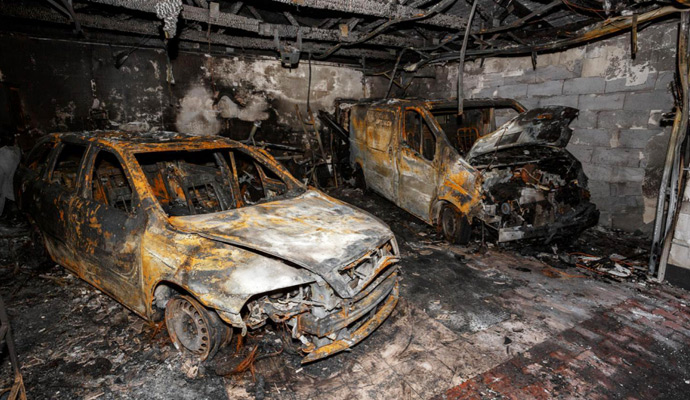 Believe in Teasdale Restoration for A Smoke Damage Restoration Service
Teasdale Restoration is a reliable service provider packed with IICRC-certified service technicians providing quality service for more than 15 years. We provide other astonishing services like Duct System Smoke Removal, Smoke Damage, etc around Guilford, Feesburg, and other cities around Ohio. So if you're looking for the finest floor damage restoration service at a reasonable price, then give us a call at 513-463-1797 immediately and we'll provide you with a free estimate.