Contents Restoration Process of Teasdale Fenton Restoration
Teasdale Fenton Restoration uses specialized cleaning and drying methods, in Cincinnati, OH, to restore water-damaged furniture, fabric, wood, leather, paper, books, photos, oil paintings, clothing, appliances documents, electronics, and metal contents.
These restoration methods are very effective and safe for restoring items damaged by water, mold and fire, smoke, and rust. Timely response and quick action within the first 24-48 hours are crucial for best results with any contents restoration method to prevent further deterioration and mold damage.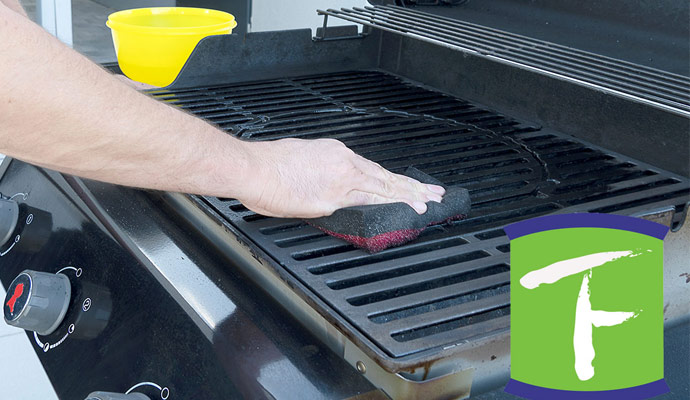 Specialized Contents Cleaning Methods
Teasdale Fenton Restoration's water damage restoration technicians clean, sterilize, sanitize, deodorize, dry, and store your contents until the restoration job is complete. Specialized cleaning refers to various cleaning and debris removal methods applied to water-damaged contents to safely help in the water damage restoration and drying process. Our technician's pre-treat items, clean items and remove dirt and debris before drying restoration methods are performed.
Our IICRC Certified restoration crews use the following cleaning methods to restore your contents:
Abrasive Cleaning – Scrub surface to clean and remove debris.
Dry Cleaning – Pre-cleans prior to wet cleaning and removes light residues.
Foam Cleaning – Cleans upholstery and fabrics; prevents shrinking and color bleed.
Immersion Cleaning – Water bath of contents and cleaning solution.
Spray and Wipe – Cleans and removes debris from items that can't be wet cleaned.
Wet Cleaning – Removes moderate to heavy residues.
High-Saturation Ozone Washing – Removes heavy smoke odor, soot, oil from leather, etc.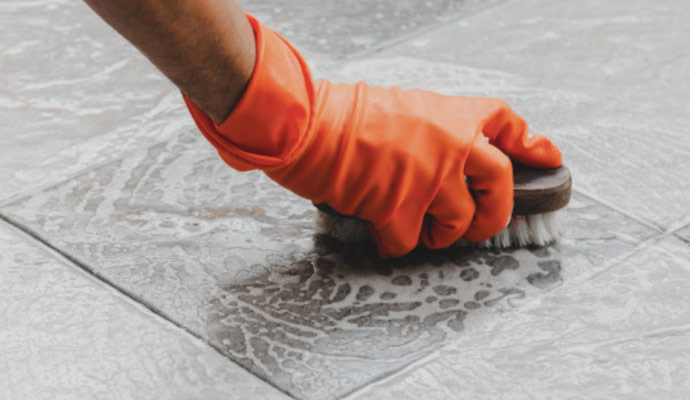 High-Saturation Ozone Washing Method
Teasdale Fenton Restoration uses high-saturation ozone washing to remove heavy smoke odor, soot, or soil. This is our preferred method for cleaning leather soft goods, leather furniture, and other leather contents. High-saturation ozone washing uses a gentle, specialized detergent to clean and moisturize leather by infusing oils back into the leather.
Contents Drying Methods
Teasdale Fenton Restoration uses various drying methods to dry and restore water-damaged contents to pre-water damage conditions and to prevent any additional damage like mold damage. Based on the material and the level of water damage, we select one of these drying solutions.
Air Drying
Cryogenic Drying (Freeze Drying)
Vacuum Freeze-Drying
Dehumidification Drying (Desiccant Drying)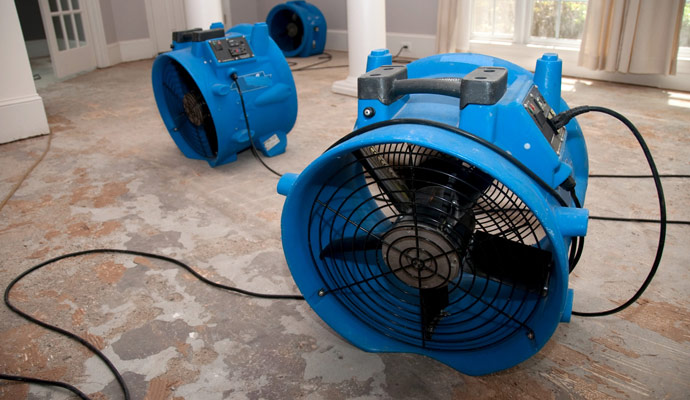 Air Drying Method
The air-drying method is effective in drying small quantities of documents that can be dried over a large surface area and turned to expose areas of wetness or dampness. This drying method exhibits low metal corrosion.
Cryogenic Drying (Freeze Drying) Method
In cryogenic drying, a slight amount of moisture is retained in each item in this drying method. A short liquid state is involved, unlike the vacuum freeze-drying method (where the item is completely dried in the process).
The short liquid phase has benefits when preserving paper, canvas, books, and documents. This method can be more costly than other drying methods, but the restoration cost can be justified when replacing heirlooms, antiques, sentimental items, rare books, collectibles, and valuable documents.
Benefits of Cryogenic Drying Method:
Less warping of books and documents
Effective in restoring water-damaged leather & oil paintings
Vacuum Freeze-Drying Method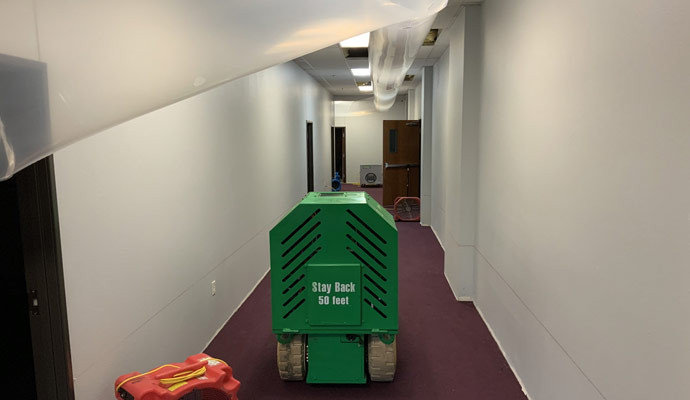 Vacuum freeze-drying is a very effective and safe method for preserving and restoring water-damaged items, including large quantities of wet documents, books, records, and coated paper and electronic components and electrical systems. We begin the drying process by completely freezing the items and then decreasing the surrounding pressure using sophisticated equipment to allow the frozen water in the contents to transition from a solid to gas, avoiding the direct liquid to gas transition phase in ordinary drying.
This direct evaporation of a solid to vapor with no liquid phase prevents further damage during the drying restoration process restoring the components of electronics at a fraction of the cost of replacement.
Phases of Vacuum Freeze-Drying Method:
Pre-Treatment - In preparation for the freezing phase, we add components to increase stability, preserve the appearance, and/or improve processing during the freezing phase.
Freezing - We use a freeze-drying machine to freeze the material below its triple point, the lowest temperature at which the solid and liquid phases of the material can coexist to sublimate (to pass directly from the solid to the vapor state and condense back to solid form) rather than melt the ice.
Primary Drying - Pressure is decreased with enough heat supplied through conduction to sublimate ice.
Secondary Drying - Removes unfrozen water molecules. Residual water is reduced to 1% to 4%.
Benefits of Vacuum Freeze-Drying Method:
Gentle drying of contents at low temperatures
Restores electronic components
Restores electronic components
Prevents metal corrosion
Easily dries items with large surface areas
Restores electronics at fraction of the cost of replacement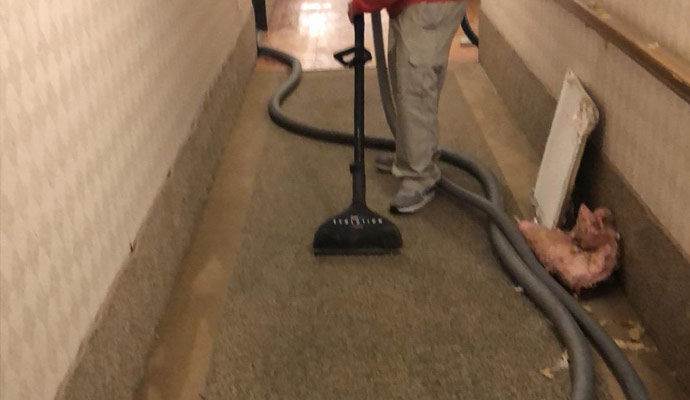 Dehumidification Drying (Desiccant Drying)
This drying method works on the principle of adsorption with an operating range from 10 °F to 90 °F. Since this drying method does not operate on the principle of heat it can be used year-round in all environments. Desiccant Dehumidification dryers eliminate moisture in the plastic materials. Low drying temperatures create a low degradation of materials. This method can increase volume, cockling distortion, and mold growth in the paper.
Why Choose Teasdale Fenton Restoration?
Teasdale Fenton Restoration has more than 15 years of experience in the restoration industry serving in New Vienna, Port William, Morning View, Kings Mills, East Enterprise, and other areas of the Greater Cincinnati, Ohio service area. We can handle any kind of fire and smoke damage problems from start to finish. Moreover, we provide 24/7 service to our customers. Call us today at 513-463-1797 or contact us online to get a free estimate and allow us to start the restoration work right away.
Phone answered live 24/7/365
3-year warranty on all works performed
Background tested, licensed & insured
Emergency water removal/pump-out service
State-of-the-art Hydro Extreme Water Extraction
Certified Vortex Structural drying specialist on your job
Direct billing to the insurance company
Commercial and residential services
IICRC Certified Technicians
S500 Guidelines for water extraction and structural drying