Restoration Services for Religious Facility in Cincinnati, Ohio
Religious facilities like churches and mosques have profound historical and cultural value to citizens. Some of the buildings are centuries-old structures housing priceless artifacts and artwork. In the wake of an emergency, restoration services for your religious facility safeguard this heritage and protect the property.
Whether your religious facility is impacted by roof leaks, flood, fire, or something else, prompt restoration is essential to avoid structural damage. At Teasdale Fenton Restoration, our IICRC-certified crews offer superior restoration services for religious facilities in Cincinnati, Mason, Middletown, Dayton, and other cities within our service area. Our crews provide water, fire, storm, and mold damage restoration services. To learn more, dial 513-463-1797 or click here to schedule services.
Benefits of Prompt Restoration Services for a Religious Facility
Teasdale Fenton Restoration's water, fire, or storm damage restoration services are beneficial for religious facilities for several reasons: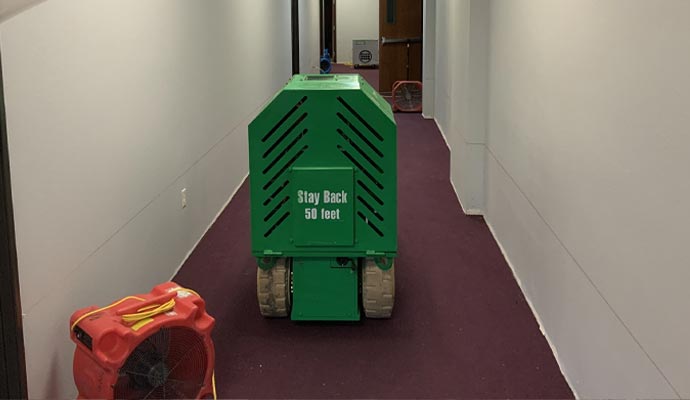 Preservation of Sacred Relics: When sacred symbols & objects are damaged, we protect and preserve these items.
Structural Integrity: Water damage compromises structural integrity. We reinforce the building to stop further deterioration.
Functional Restoration: By restoring functionality for the building, we allow congregations to resume religious activities.
Mold & Mildew Remediation: Moisture causes mold & the need for remediation to recapture a healthy environment.
Smoke & Soot Cleanup: Smoke & soot damage diminish indoor air quality. We remove these residues, boosting the air quality.
Preventing Further Damage: A rapid restoration response minimizes the risk of further damage.
Trust Us for Commercial Restoration in Bellevue, Lynchburg, & Cincinnati
With more than 15 years of industry experience, Teasdale Fenton Restoration offers comprehensive commercial restoration services for churches & religious facilities, healthcare facilities, office buildings, hotels, and more. Our IICRC-certified restoration crews are available on a 24/7/365 basis to serve you in times of emergency. When you need our help, dial 513-463-1797 or click here for more information.