Wood Floor Damaged from Leak in Cincinnati, OH
While hardwood floors may seem to be durable, they are often vulnerable to damage caused by pipe leaks, floods, excessive humidity, faulty installation, and unsuitable cleaning techniques. This may result in crowning, cupping, and warping issues that are both costly and difficult to correct.
To prevent or restore such inconveniences, Teasdale Restoration is providing floor damage restoration and maintenance services to the residents living around Cincinnati, Feesburg, and other cities of Ohio having the modern equipment and tools utilized by our skilled crew members and experts at our disposal. So why wait today when you can get our premium services anytime by calling at 513-463-1797!
Reason for Leakage in Wood Floor
The reasons for leakage in the wood floor could be many. Some of the common reasons are given below:
The presence of water on the job site.
A moist slab might affect the wood floor.
If the floor or the surrounding region has drainage problems, the house may flood.
Peaking in the floor may be caused by roof leaks.
In the event of a pipe leak, flooding or an increase in the moisture content of wood floors may result.
The accumulation of moisture in a home that has been uninhabited for a lengthy period of time without adequate ventilation is also possible.
Wooden flooring is also affected by humidity. Summer humidity causes the wood floor to expand, putting strain on the planks and causing them to rise or buckle.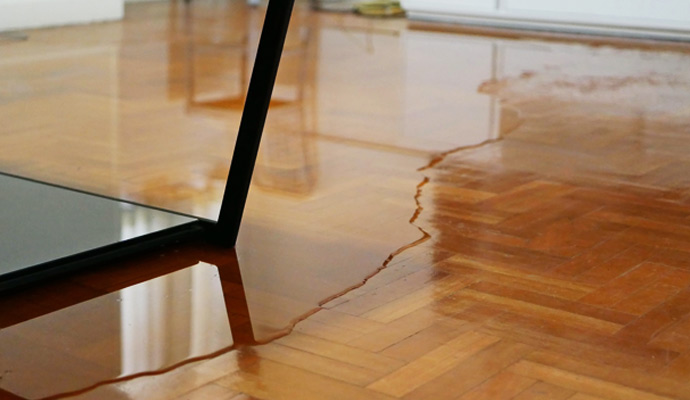 Count on Teasdale Restoration And Get Premium Floor Damage Restoration Service
Teasdale Restoration is a trusted and certified service providing amazing restoration service for a long time. We provided other notable services like Floor Water Damage, Water Damage Inspection, etc around Guilford, Blanchester, and other regions of Ohio. So if you are interested in getting the best wood floor damage restoration service at an affordable price, then call us today at 513-463-1797 and get a free estimate or contact us online.